This is what I woke up to today: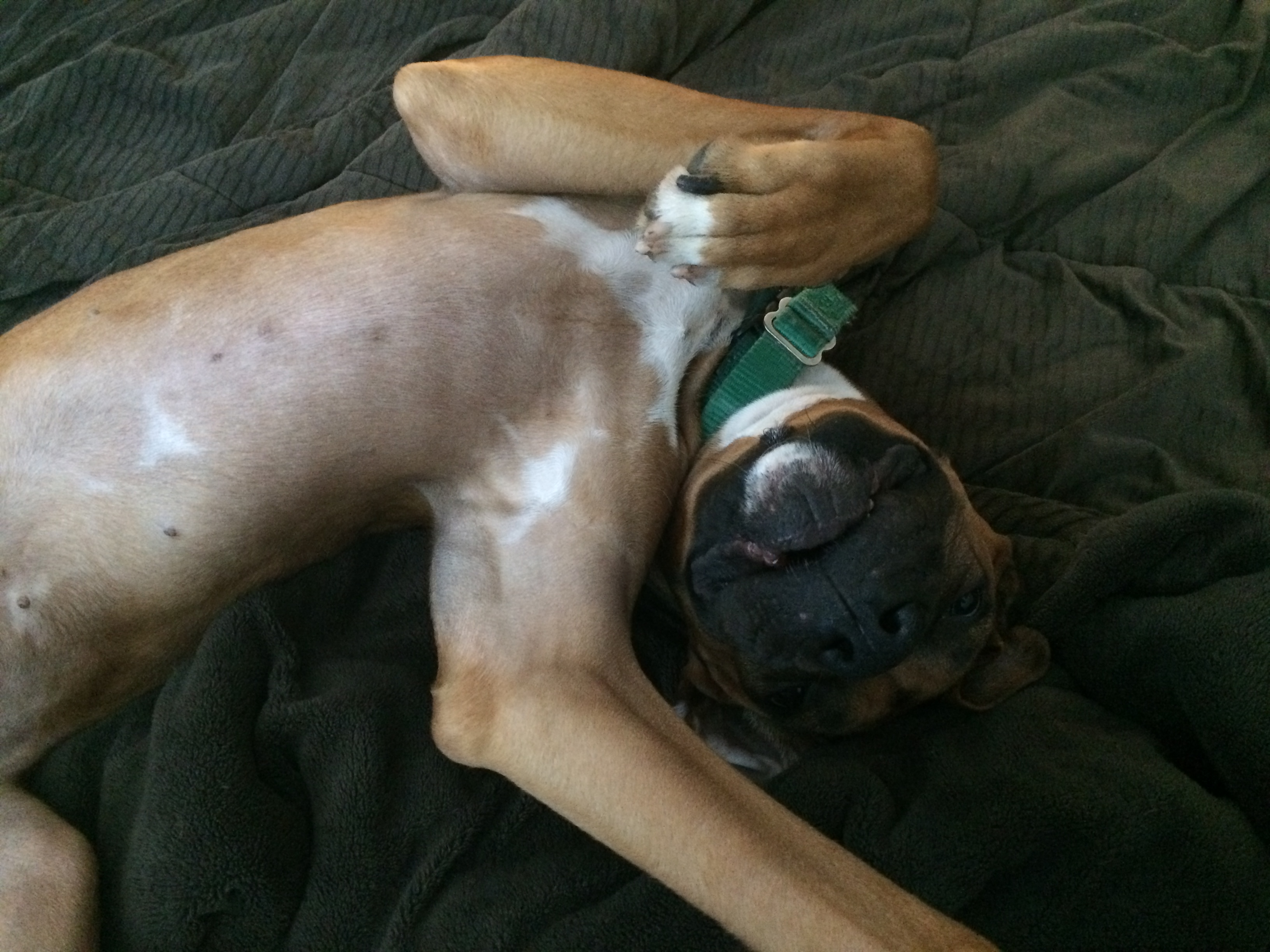 Haha, good morning to you too Oscar!
Final No Added Sugar/Fake Sugar Challenge Update
We're still going strong. Today is officially Day 30!!! We decided to extend the challenge to the day we leave for Arizona, but technically, this is the final day of the 30 day challenge and will conclude my updates for the challenge!!! (You can find the others here, here, here, here, and here)
Feelings: I feel really good. I've said this before, but I feel better than I have in a long time. My head is clear and I don't feel intense hunger pangs like I used to. I'm usually pretty even keeled when it comes to hunger and I don't need to eat being satiety.
Cravings: It's strange, actually. I'm not necessarily craving any one thing. I look at cookies and go "meh". Same thing with cakes, candy, etc. At the same time, I do feel like I'm missing something. Like there is something out there that I am craving, but I can't figure out what it is. Never thought I'd say that!
Body: As you can see, I lost a lot of fluff off of my stomach through this challenge. I cut out diet soda and the minocycline I used to put in my coffee. Those were the hardest to cut out, but have made a huge impact on my body, in my opinion.
Final Thoughts
This challenge was definitely one of the most eye-opening challenges I've ever done. It's amazing how much sugar is added to so many foods and sauces that you wouldn't even imagine could have sugar. Avoiding it was tough at times, but since I eat pretty basic foods anyways, it didn't throw me for too much of a loop. Someone that has a diet including lots of processed foods would likely have a much bigger change in what they could/couldn't eat. The biggest change for us was that we couldn't really go out to eat anywhere. Since we didn't know what ingredients were in the foods, it was tough to go out. We were able to have Chipotle (certain items) and eggs/potatoes at our local breakfast joint, but other than that, we basically ate at home or brought food with us.
It was interesting to see the different stages that Charlie and I went through.
The 2nd day of the challenge, I had a huge headache. The kind of headache you get when you don't drink caffeine for a few days. It was definitely a withdrawal from either regular sugar or fake sugars. My guess is fake sugars because of how much I was consuming.
The next weird thing happened about 2 weeks into the challenge and was something that both Charlie and I experienced: insatiable stomachs. No matter how much we ate, it always seemed that we were still hungry. There was a day that both of us ate almost constantly throughout the day and by the evening, were still not full. It was very odd. We aren't sure exactly what that was, but likely a result of sugar cravings that weren't being satiated.
The last week of the challenge has been the easiest. I actually don't feel like I miss sugar all that much. The thought of sweet treats and desserts kind of hurts my teeth. I have no interest in diet soda (and am glad to rid that habit), and Splenda is a thing of the past. I'll be sticking with stevia.
Thanksgiving will be an interesting day. I have a feeling that when we do ingest food with sugar, we're going to feel it pretty quickly. I wouldn't be surprised if we got sick from it. I'll definitely make sure to report back about that.
We both plan to stick to this as much as we can going forward. We aren't going to completely cut sugar out of our lives, but we are going to avoid it much of the time. We definitely aren't going to go back to our old habits. The impact this has had on both of us is much greater than we expected and they are habits that we'd like to try to keep a majority of the time.
Favorite Things We Had to Cut Out
Lizzy:
-Splenda in my coffee
-Diet Soda
-Coconut Ice Cream
-Candy
Charlie:
-Reese's PB Cups
-Haagen Daaz Ice Cream
-Starbucks Egg Sandwiches
Both:
-La Victoria Hot Sauce
-Weekly frozen yogurt date
-Ketchup
-Most breads
Progress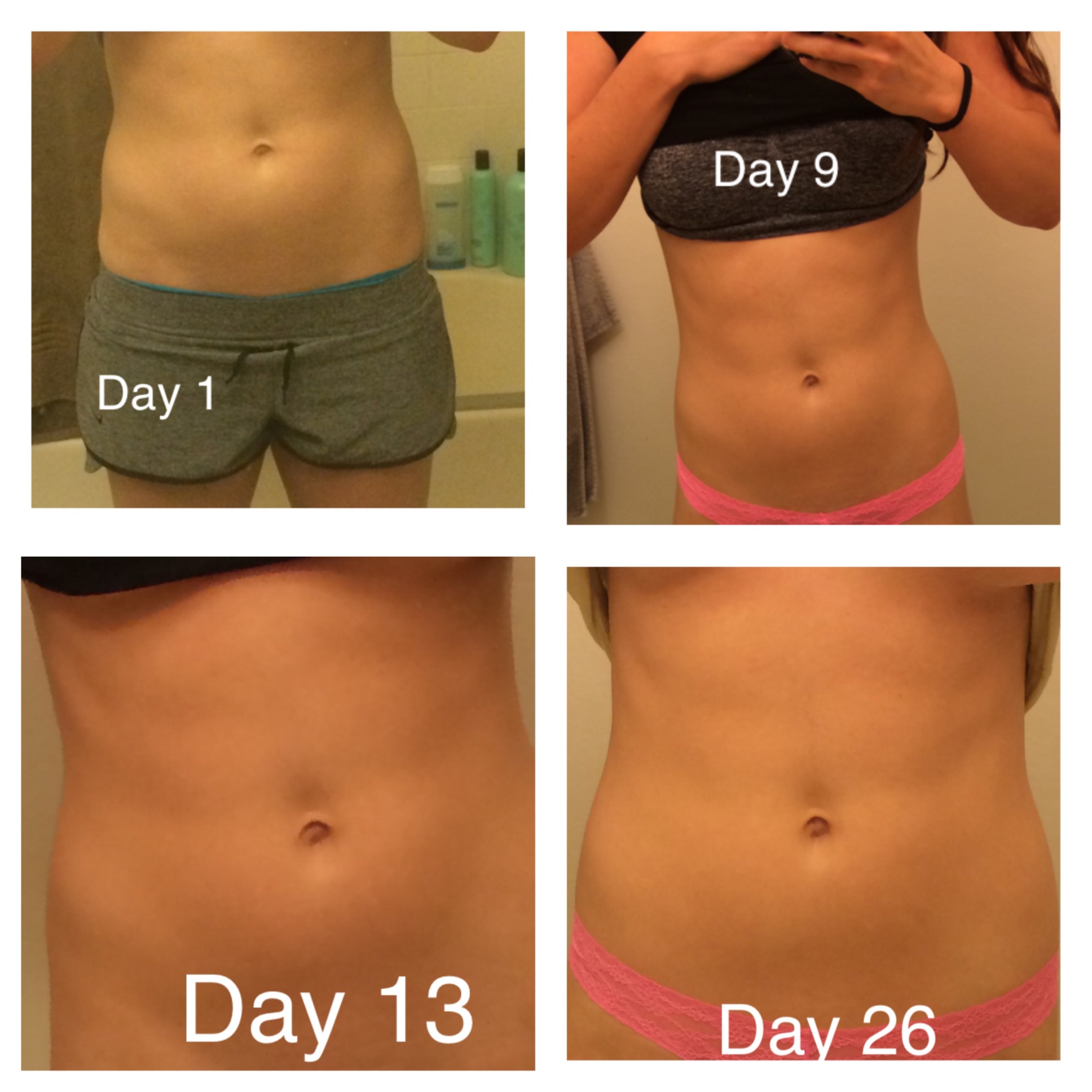 I need to take a final photo, but I didn't have time this morning. I'll post that this week as well.
Question of the Day
1. If I hosted a 30 Day No Sugar Challenge, would you want to be a part of it?
2. What is your favorite dessert? Maybe this will spark my cravings a bit! LOL