Wow, this week has flown by! I feel like I say that a lot. It's been a mixture of good and bad.
Good
I finally sucked it up and started squatting with low bar. This means the barbell sits lower on your shoulders than a normal squat. It feels SUPER awkward, but it distributes the weight throughout your body better and usually makes it easier to squat heavier. Getting past the awkward feeling is by far the hardest part, but once you do, the results are awesome. I squatted 160 lbs for 3 reps the other day, whereas when I did normal squats last week, my 1 rep max was 165. I am really excited to see what my 1 rep max is with a low bar squat.
Here's the difference between normal bar and low bar:
Bad
I haven't gotten much sleep this week and consequently have been a little grumpy. It's amazing what a lack of sleep can do to you. I'm doing a photo shoot on Saturday (see below), but plan on fully taking advantage of my first free day in WEEKS. Not that I'm complaining, as it has been a fun past few weeks/weekends, but I literally haven't had a day to myself in over 3 weeks. I need it.
Good
I'm working with a fellow FitFluential Ambassador this weekend and will be demoing a bunch of exercises for a new iPhone app that is coming out! It looks really cool, so I will definitely spread the word when it's out! You'll see my familiar face/body in the entire exercise glossary! 😀
Bad
I don't recommend walking 19 miles in a matter of 2.5 days. It's not a huge deal, but I hurt something in my foot last weekend and it's just been an annoyance. I'm still able to walk, run, jump, etc. but it's just a naggy little thing that is bothering me. I'm hoping a little R&R this weekend will heal me.
Good
I love my best friend. I know this is cheesy, but this little guy makes me so happy! I love watching him goof around, play with other dogs, and just be a light in the room. I'm lucky to have this mutt!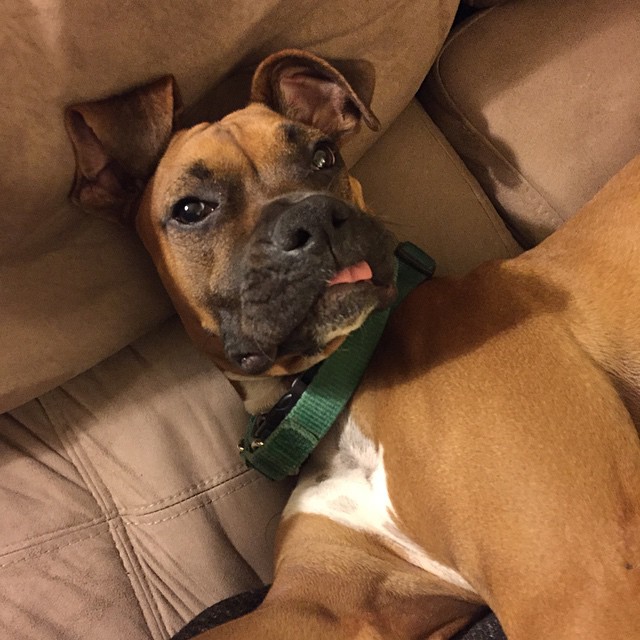 In other news, I've been really digging my workouts as of late. I've been mostly focusing on getting stronger and throwing a little HIIT in between. Here's what my workouts looked like this week:
Sunday: HIIT – 20 minutes
Monday: Legs (colored pairs indicate supersets)
Hip Thrusts: 185 x 12 (3 sets)

Banded Hip Abduction: black band x 30 (3 sets)

Leg Extensions: 70×15, 90×12, 90×12

Supinated Hamstring Curls: 50×15 (3 sets)

Box Jumps: 24 in. x 10 (2 sets)

DB Step Ups: 22.5 x 10 (2 sets)

Burpees: 10 reps (3 sets)
Tuesday: Shoulders + HIIT – 20 minutes
Wednesday: Full Body (Heavy Squats, Heavy Hip Thrusts, Back Extensions, Banded Lateral Walks, Incline Press, Chin Ups, Hanging Leg Raises)
Thursday: 15 min. Cardio to warm up, then a high rep, light weight full body workout including Leg Extensions, Supinated Hamstring Curls, DB Squat to Press, Rear Delt Raises, and Underhand Barbell Rows
Friday: REST
Saturday: Exercise Demos 🙂
Question of the Day:
1. What is 1 good thing and 1 bad thing that happened this week?