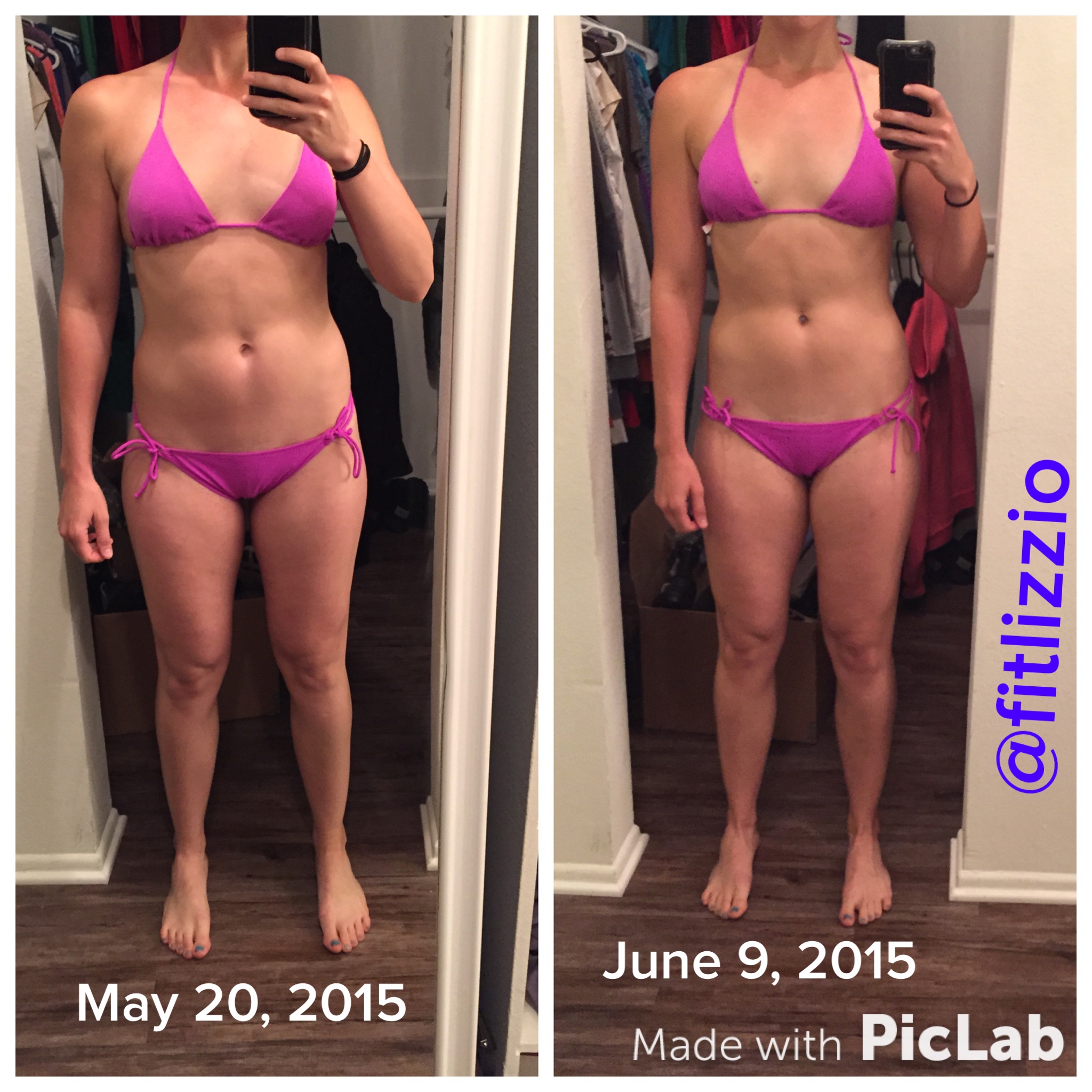 So, much to my surprise when I woke up today, it wasn't Friday. For whatever reason, yesterday felt like a Thursday for me and my week now feels discombobulated.
HAPPY WEDNESDAY
On another note, I'm getting my wisdom teeth out today. TERRIFIED, although I'm sure it won't be that bad. (right? RIGHT?!) I'll be sure to fill you all in afterwards (aka, I'll share my chipmunk cheek photos with you for your viewing pleasure).
21 Day Clutch Review
I finished up the 21 Day Clutch as part of the FitLizzio Experiment! I'm soooo excited to give you all the details about this, so let's get right to it!
The Program: 21 Day Clutch by Ashley Conrad
Program Length: 21 Days
Intensity: Hard
Workouts per Week: 5
Average Workout Length: 45-60 minutes
Overall Score (1-10): 7
Starting Weight: 152.9
Ending Weight: 149.1
THE WORKOUTS
This program had a mixture of lifting days and cardio days, with 2 rest days each week. The lifting days were full body workouts to be done circuit style. The cardio days were HIIT sessions that lasted anywhere from 15-25 minutes with an ab routine at the end.
Success rate: 99%. I stuck to all of the workouts and didn't miss a single one. I did my own stretching and foam rolling (instead of what was prescribed), and added a barbell to the body weight squats to make it harder.
Likes:
-The workouts kicked my butt. I always left the gym a sweaty mess!
-You can day anything for 21 days. I liked that this program wasn't something I had to commit to for a REALLY long time.
-While there was a small amount of steady state cardio that was recommended (but as an option), the cardio days were based around doing sprints on the treadmill. I agree with this philosophy and feel that it is the most effective way to improve your cardiovascular health as well as lose fat.
-I plan peppering both the lifting and HIIT workouts into my regular workout schedule about once per week.
Dislikes:
-The lifting workouts stayed the same throughout the entire program. I would have welcomed a little bit of variety.
DIET
I followed the diet to a T for 7 days, but found that it just wasn't enough food for me. Ashley recommends 1/2 gram of Carbs per pound of body weight (for me, that's only 75 grams per day!), 1 gram of protein per pound of body weight (150g=good), and 1/2 gram of fat per pound of body weight (75g=good). While I had intended to follow this plan exactly, it just wasn't doable for me. I am up at 5:30am and work 12-13 hour days sometimes. I workout, work, train clients, and chase a dog around throughout the day, so I'm very active. 1300 calories per day and such a low amount of carbohydrates wasn't sufficient. Instead, I stuck to my own macro-nutrient numbers: 150g Protein, 60g Fat, 190g Carbs per day, with slightly less on rest days.
Likes:
-While the first 7 days I followed the exact foods that the 21 Day Clutch called for, by Day 8 I realized that it was also a macro-nutrient based diet, so I could swap out foods for other foods with similar macro-nutrient values: SCORE! Considering that's also my philosophy when it comes to dieting, I went with that and made the adjustments I mentioned above.
Dislikes:
-Not enough food. I'm 5'7 and it suggested I eat 1300 calories per day. As I mentioned above, this isn't nearly enough on a day I'm working out.
-The diet seemed like a "quick fix" type of diet, which I do understand. It's laid out to be a 21 day turnaround, so to see big results that quickly, requires drastic measures. However, I prefer a plan that leads to a sustainable lifestyle and this didn't seem sustainable to me. It's also possible to see results without being too crazy about it (see below).
PROGRESS:
At some points throughout the last 21 days, I felt that my body was changing. Other times, I couldn't tell. I have had several people tell me my upper body is leaning out a lot, so I figured something must be happening and I just continued to trust the process. I took my 2nd set of progress pictures yesterday and was surprised to see the changes: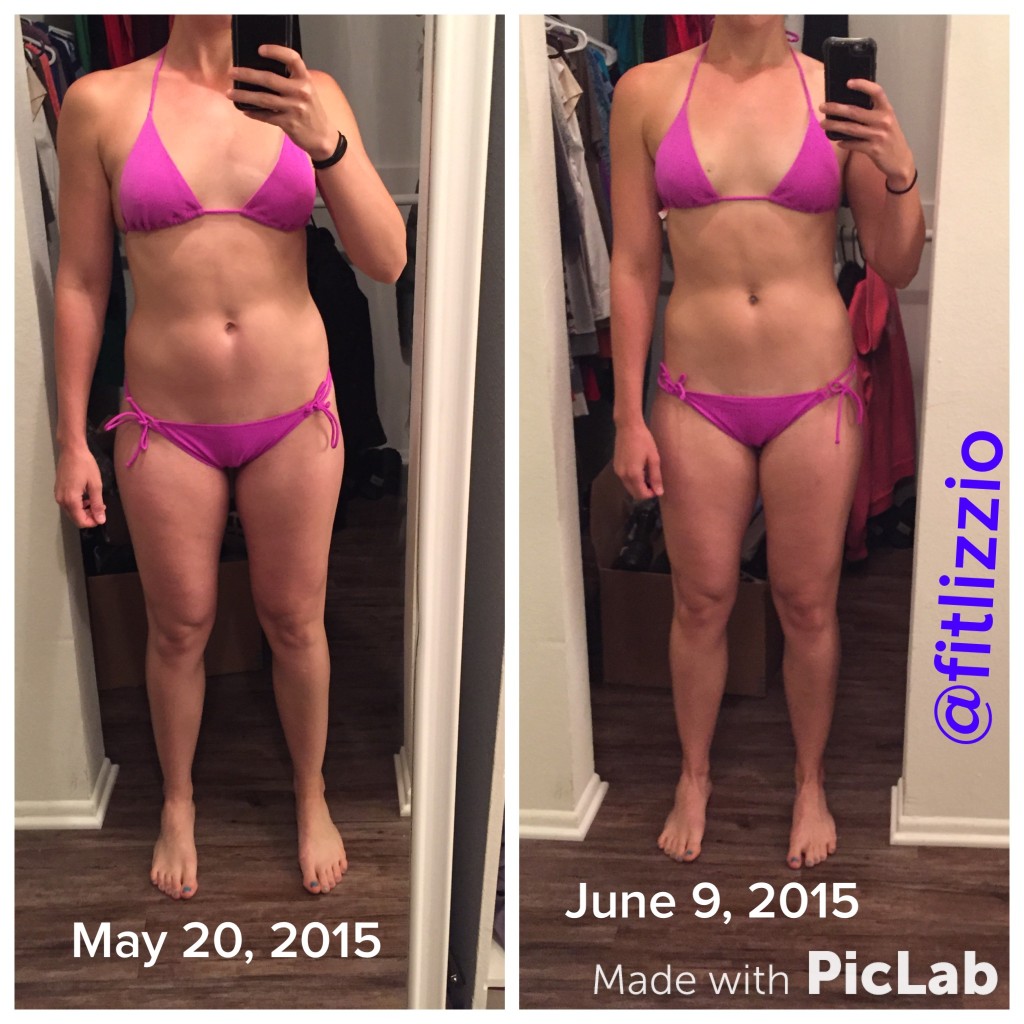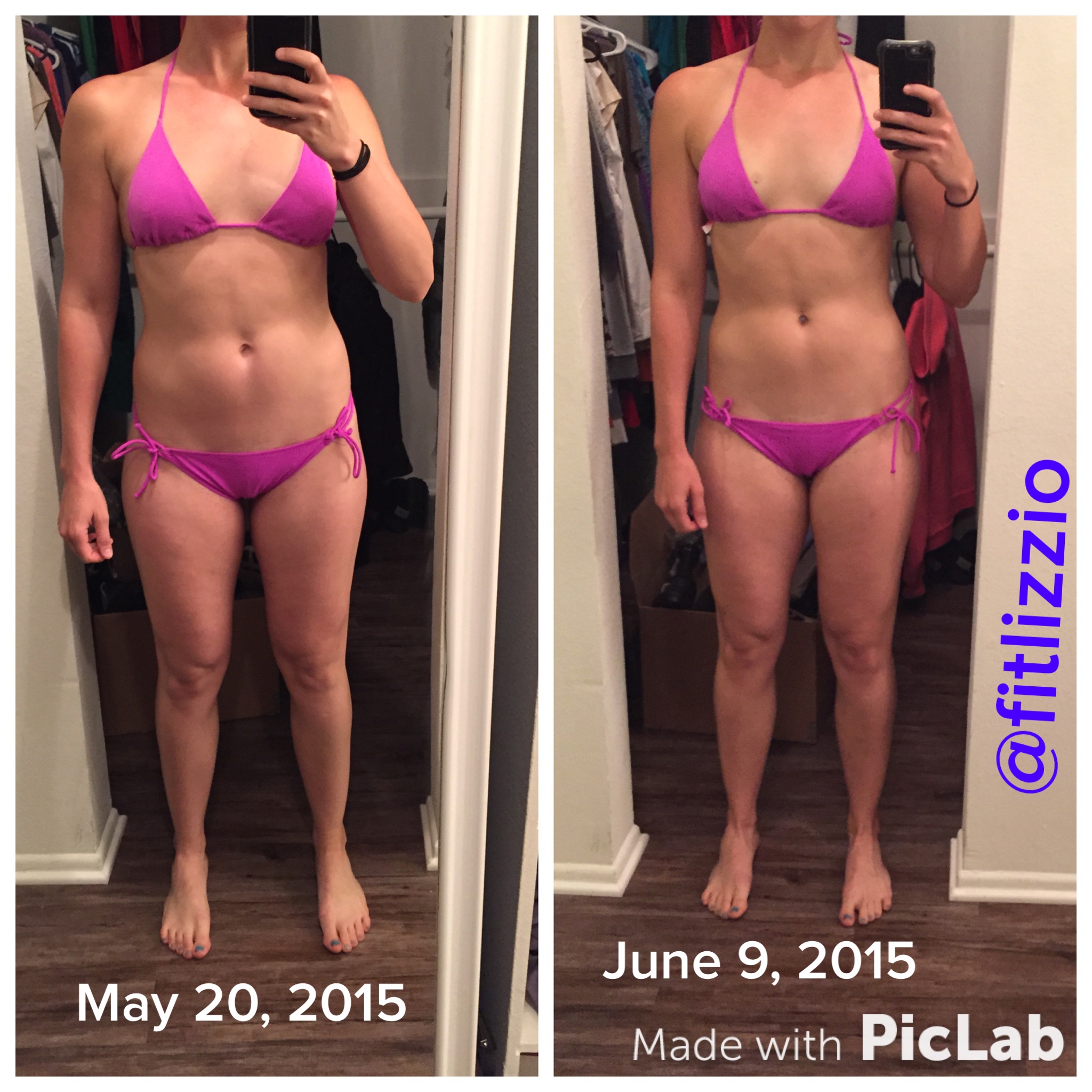 It's funny how seeing yourself every day can skew your view of changes that are happening. I'm definitely happy with the results!
I haven't decided what my next installment of the FitLizzio Experiment will be, but I'm going to be scouting that out over the next few days. I'll likely go back to lifting heavy weights for a few weeks (and incorporating the 21 Day Clutch HIIT workouts, too!) before starting my next experiment.
Question of the Day
1. What programs have you done that you like?
2. Checkout the programs on BodyBuilding.com. Anything in particular you'd like me to try next??