Traveling? 6 Tips to Stay on Track with your Health and Fitness Goals
If you know me at all, you know that I love to travel! Since I work A LOT, I have to be very creative in my travel plans, but I still make room for a quick escape at least once a month!
In the last 3 months, I've been to Scottsdale twice, San Diego, Santa Barbara, Salt Lake City, Boulder, and Las Vegas. (Woah, writing that out makes me wonder how I did all of that myself!)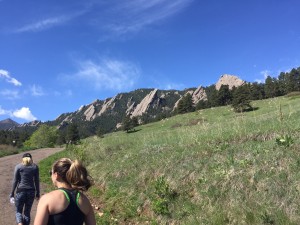 When I travel, I like to enjoy myself, but I don't like to throw myself completely off track from my health and fitness goals. I work way too hard in the gym and the kitchen to throw it all away on a few days of vacation. I also don't want to be the girl with chicken and broccoli in her suitcase (been there, done that), so I've had to find ways to be creative when I travel.
Here are 6 Tips to Staying on Track with your Health and Fitness Goals while you're traveling!
1. Pack some healthy snacks. Whenever I'm leaving for a trip, I always pack Quest bars, some protein powder (and a shaker bottle), and some Justin's peanut or almond butter packets. This way, I always have a snack if I get hungry and it's not time for a meal. Depending on where I am, I don't always have control of the snacks on hand, so I like to keep something in my purse in case my options are slim.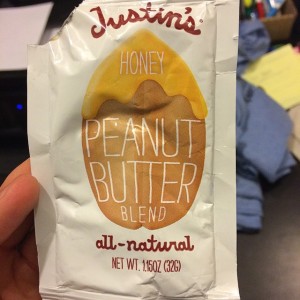 2. Build your meal around protein. When you go out to eat with friends or family, you don't have to order the plain chicken breast with steamed green beans (although if it's not a restaurant I'm super excited about, I definitely do that. I'd rather splurge on something that I REALLY want instead of loading up on calories for a food I'm indifferent about.). I'll typically choose a protein (steak, chicken, or fish), and build my meal around that. Sometimes I'll try to stay really healthy and do a salad with meat, some type of healthy fat (avocado, cheese, oil), and lots of vegetables with dressing on the side so that I can control the amount used. Other times I'll be more lenient and go for a meat, a side of vegetables, and a 2nd side that isn't as healthy, like sweet potato fries or something similar. It all depends on the restaurant for me and I choose based on how healthy I want to be and how much I like the restaurant.
3. Splurge when it's worth it. I'm a big fan of not missing out on the things you really love. For example, when I go to Arizona and visit my favorite restaurant, White Chocolate Grill, I have to get the White Chocolate Brownie. I'm fairly sure it's at least 2,000 calories, but I just take a few bites (which is plenty) and satisfy my craving. Because I know I want this dessert, I make sure to choose a healthy entree. There are some instances where I'd rather skip dessert and eat french fries or macaroni and cheese, so I'll allow myself to splurge on my side dish, and choose other healthy options for the rest of my meal.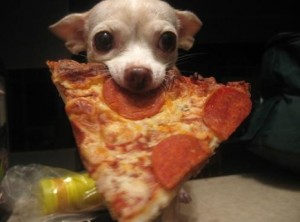 4. Workout. Regardless of where I go, I always find time to get a work out in at least every other day. This helps me get into a healthy mindset for the day and I always feel better after a great workout. If I can't make it to a gym or a mountain to hike, I wrote a book with 25 workouts you can do anywhere in 20 minutes, so I'll choose one of those and bust it out in someone's living room or backyard. (like I did in Boulder a few weeks ago!)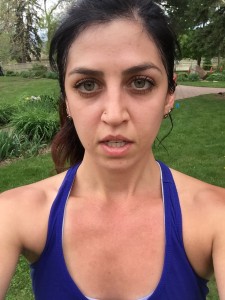 5. Walk, walk, walk. (and take the stairs). When I'm traveling, I always try to "lifercise" as my dad calls it. This means walking instead of driving when possible. Taking the stairs. Carrying the heavy groceries or bags. Basically, if you can make it harder, do it. That sounds counter-intuitive to being efficient, but it's a great way to sneak in some extra exercise throughout the day.
6. Research. If you're going to a new city, research your options before you arrive so you have some idea of places you'd like to go. I used to be the person that would stay quiet when everyone started talking about where they wanted to eat. I'd end up at a restaurant that was a little-higher-end-than-KFC-but-not-much and find myself with very few options. While sometimes that WILL be the case (in which you just enjoy the fried chicken and move on with your life), if you have some ideas and vocalize said ideas, often times you'll be able to try out some of the restaurants you'd be hoping to visit during your stay.
Question of the Day
What is something that you do to stay healthy while traveling?