No Sugar Challenge Update + Leg Workout!
Holy mackerel. That's about all I can say about yesterday!
Yesterday was one of those days that I call an Unintentional Fast. Basically I was completely unprepared for the busy-ness of the day, that I didn't eat anything for most of the day. For the record, I am NOT pleasant to be around when I haven't eaten!
The day started innocently enough. I knew I had a bunch of things to do, but thought for sure I'd have time in between to get some eggs or something at my favorite coffee shop. Umm, no. I grabbed a coffee and a banana at around 8am and that was the last thing I ate until about 3:30pm. Can I tell you what happened in between those hours? NO. Because it was mostly a blur. I remember packaging things up, getting signatures for a boatload of documents, and hitting up a FedEx store to ship off said documents, but I'm not sure what else happened.
Lesson of the Day: FEED LIZZY.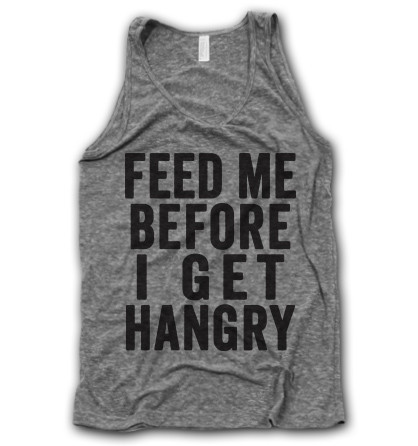 (This shirt seems appropriate)
Wednesday Glute/Ham Workout
Charlie met me at the gym on Wednesday and did a leg workout with me. We focused a lot on glutes and hamstrings in this workout. I list my weights for reference, but you know your body and strength, so choose the appropriate weights for YOU.
3 Supersets: Barbell Squats (95×12, 115×10, 11510) & DB Reverse Lunges (3 sets using 20's x 12 per leg)
3 Supersets: Leg Extensions (drop sets: 10 reps @ 70, drop weight to 50, do 10 more reps) & Supinated  Hamstring Curls (50 x 15)
3 Sets: Thick Banded Hip Thrusts (used thick green band)
3 Sets: 45 Degree Hypers w/ 25lb plate
As always, check with a doctor before starting a new exercise program. You know yourself better than anybody, so always remember to honor your body.
Update on No Sugar for 30 Days
So Charlie and I are officially on Day 5 of 30. So far, it's going well. I definitely miss diet soda, but it's getting easier each day and I'm drinking way more water (score!). I also haven't been just grabbing a protein bar on the go as a sad excuse for a meal (see above), so I've had to definitely plan a bit more. It's definitely for the better, as I'm eating much more REAL food. I ate really well before with the occasional treats, but now I'm eating REALLY, REALLY freaking well. I definitely feel better overall.
How I Feel: I woke up Day 2 with a headache that reminded me of a caffeine headache. I attribute it to the fact that I hadn't had any artificial sweeteners. Seriously, that's crazy. I didn't realize that my body had built up such an addiction to it, but I guess two coffees (with 2 splendas each) and 1-2 diet sodas per day will do that.
Sleep: I've been sleeping, but I've been EXHAUSTED this week. That could partially be from a busy work schedule and a jam-packed weekend, but I also think there could be some withdrawals happening for me with the artificial sweeteners. As I said, I didn't realize how much this was affecting me, but it's becoming clear that maybe it has. I'm definitely feeling better on Day 5 than I was on Day 2!
Workouts: I've been kicking ass. I haven't noticed a difference here, other than I feel more determined.
Progress: Not a huge difference here, but I feel like my stomach seems flatter. I definitely feel less bloated.